According to the Viet Nam News Agency correspondent in the UK, after extending one day longer than scheduled, the 26th Conference of the Parties to the United Nations Framework Convention on Climate Change (COP26) closed on November 13 in Glasgow, Scotland (United Kingdom), with the reaffirmation of maintaining the goal of limiting global temperature increase to 1.5 degrees Celsius under the Paris Agreement.
At COP26, all 197 countries participating in the United Nations Framework Convention on Climate Change ratified the Glasgow Climate Pact, which reaffirmed the goal of controlling average temperature rise. The global average is below 2°C above pre-industrial levels and is determined to pursue efforts to achieve the 1.5°C increase target to avoid the worst effects of climate change.
This goal requires rapid and sustainable major reductions in CO2 emissions, including a 45% reduction in CO2 emissions by 2030 from 2010 levels and to zero by mid-century, as well as a emitting other greenhouse gases.
Delegates at a discussion session within the framework of COP26 in Glasgow, England, November 5, 2021. (Photo: AFP/VNA)
The treaty includes an important text, calling for "the gradual phasing out of coal power without the use of carbon-capture technologies and inefficient fossil fuel subsidies," and acknowledging the "need for assistance to towards a just transition."
This is considered a major turning point because fossil fuels have been mentioned for the first time at an agreement of the United Nations Climate Summit.
The pact requires countries by the end of 2022 to "review and strengthen" their 2030 emissions reduction targets, "taking into account different national circumstances," to achieve the goal of limiting global temperature rise to "below 2 degrees Celsius" or 1.5 degrees Celsius under the Paris Agreement.
This is a step forward because under previous UN climate agreements, countries were required to submit these plans, known as nationally determined contributions (NDCs), every five years.
The pact emphasizes the need to mobilize climate finance from all sources to achieve the levels needed to realize the goals of the Paris Agreement, including significantly increasing assistance to developing countries, beyond more than 100 billion USD per year; At the same time, he urged developed countries to urgently complete the committed target of 100 billion USD as well as the target by 2025, and emphasized the importance of transparency in the implementation of their commitments.
The pact also urges developed countries to at least double climate change adaptation funding to developing countries by 2025 compared with 2019 levels.
While developed countries are responsible for the majority of greenhouse gas emissions, developing countries bear the worst impacts of climate change.
Loss and damage - an important issue for developing countries - was included in the pact, with calls for developed countries and other organizations to provide more assistance to vulnerable countries to respond to the severe impacts of climate change and to address the damage caused by extreme weather events and sea level rise.
The pact affirms the urgency of scaling up action and assisting, as appropriate, including funding, technology transfer and capacity building, to implement approaches to prevent, reduce and address loss and damage related to the adverse effects of climate change in developing countries that are particularly vulnerable to these impacts.
COP26 President Alok Sharma said the agreement placed an "unprecedented" focus on loss and damage under the principle that rich countries, which are primarily responsible for global warming, should compensate poor countries for the impacts of climate change.
He also said that the pact, although "not perfect", showed "agreement and support".
Observers hailed the Glasgow Climate Pact as a victory, with a United Nations agreement explicitly mentioning coal, the biggest greenhouse gas emitter for the first time.
During the 14 days of the Conference, the participating countries made a series of important commitments, including more than 100 countries committed to ending deforestation by 2030, including Brazil, home of the Amazon rainforest.
Nearly 100 countries have also pledged to cut their methane emissions by 30% by 2030, considered one of the best ways to rapidly reduce global warming. In addition, 40 countries, including Viet Nam, have committed to phase out coal power - accounting for about 37% of the world's total electricity in 2019 - and the fuel that is the biggest contributor to climate change.
A new coalition of nations committed to setting deadlines to end oil and gas use and to stop issuing new exploration permits was also unveiled at COP26.
At the Conference, the United States and China issued a joint statement on climate change, in which the two countries pledged to work together over the next decade to develop long-term strategies to achieve the goal of net zero emissions, while addressing the issues of methane emissions, transition to clean energy, and reducing carbon emissions.
The agreement between the world's two largest emitters is seen as an important step towards achieving the goal of limiting global temperature rise to 1.5 degrees Celsius set out in the Paris Agreement.
COP26 also saw the commitment of 450 financial institutions, managing a total of $130 trillion in assets, or 40% of global private wealth, in using investments that support clean technologies such as energy renewable energy and eliminate funding for fossil fuel industries.
This is an initiative to engage private companies in achieving net zero emissions and committing to funding green technology.
COP26 is considered a decisive conference to maintain the goal of limiting the increase in global temperature to 1.5 degrees Celsius above pre-industrial levels to prevent serious impacts of climate change.
This target is set out in the Paris Agreement signed by 195 countries at COP21 in the French capital. To achieve this goal, global emissions must be reduced by 45% by 2030 and to zero by 2050.
Global warming is caused by emissions from fossil fuels used by humans such as coal, oil and gas, causing increasingly extreme weather events such as heat waves, floods and forest fires.
The past decade has been the hottest on record globally, and nations have agreed that urgent joint action must be taken to stop global warming.
On the same day, United Nations Secretary-General Antonio Guterres welcomed the results achieved at COP 26 but said that the world still faces many risks and stands on "the brink of disaster."
"The content of the agreement is very promising, but our fragile Earth is at risk," Antonio Guterres said in a statement.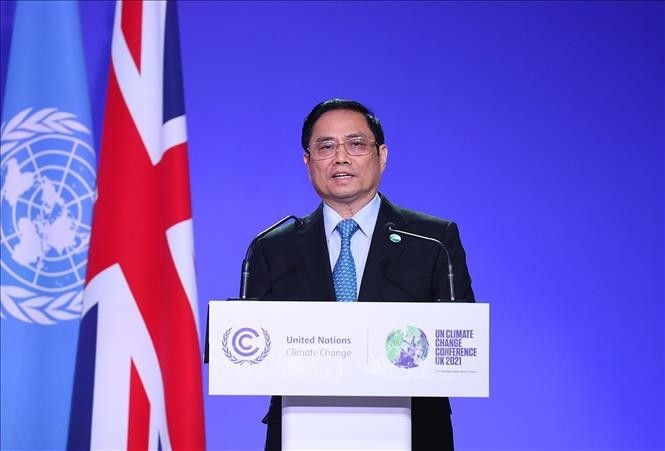 Prime Minister Pham Minh Chinh speaks at COP26. (Source: VNA)
Imprint of Viet Nam
Prime Minister Pham Minh Chinh led a high-ranking Vietnamese delegation to COP26, at the invitation of UK Prime Minister Boris Johnson.
Viet Nam is currently one of the countries heavily affected by climate change. Prime Minister Pham Minh Chinh's participation in this conference is of great significance and is an opportunity for the international community to understand clearly Vietnam's policies and efforts, as well as difficulties and challenges in responding to climate change.
Through the speeches of Prime Minister Pham Minh Chinh at COP26, the international community can clearly see Vietnam's proactive and positive spirit in responding to climate change, especially its commitment to link involved in achieving net zero emissions by 2050, participating in the Global Methane Reduction Pledge, and the Glasgow Declaration of Leaders on Forests and Land Use.
On the occasion of attending COP26, Prime Minister Pham Minh Chinh had more than 20 meetings and bilateral contacts with senior leaders of countries such as the UK, US, Germany, Japan, South Korea, Canada, Australia, India, and Thailand, etc. and the Secretary-General of the United Nations, President of the European Commission (EC).
Foreign Minister Bui Thanh Son affirmed: "Prime Minister Pham Minh Chinh's messages conveyed at COP26 are very strong and welcomed by partners. These messages at the same time show the determination of Viet Nam, even though it is a developing country with many difficulties, it is still determined to join hands with the world to solve global problems".
Meanwhile, assessing Viet Nam's commitments at COP26, expert on environmental security of the British Geostrategic Council William Young affirmed that "Viet Nam's commitments at COP26 have made the world see clearly Viet Nam's leadership role in the fight against climate change globally".