* Ensure enough water supply for Dong Van town
Dong Van Town (Ha Giang) is famous as a land of thirst and thirst, lack of water all year round. Especially when tourism develops, the demand increases, the water shortage becomes more serious.
To find a solution for the region, in 2008 MONRE assigned the Institute of Geosciences and Mineral Resources, in collaboration with the Institute of Water and River Basin Management - the Karlsruhe Institute of Technology (Federal Republic of Germany) to participate in the project "Deploying technology for sustainable exploitation and use of water resources in the karst areas of Viet Nam, pilot in some areas of Dong Van Plateau Global Geopark Park, Ha Giang Province" (abbreviated as Kawatech).
The reason that the ministries and branches of Viet Tam chose a German partner is that before coming to Ha Giang, the Institute of Water and River Basin Management - Karlsruhe Institute of Technology has successfully applied cave water pumping technology to Indonesia.
People in upland areas of Dong Van strive to get water for daily use
Since 2009, Vietnamese - German scientists have begun to survey, research, observe, collect data, find pre-feasible options. Through practical research in Dong Van district, scientists from Germany have put Pump As Turbine to pump water from a stream in Thai Phin Tung commune to a reservoir on the mountain with a difference of 500 - 700m to supply free-flowing water to the whole Dong Van town and some villages in Thai Phin Tung commune.
In February 2014, the Kawatech Project was implemented in Seo Ho village, Thai Phin Tung commune, with a total investment of over VND 100 billion, of which, the Federal Republic of Germany supported 2.5 million Euro (equivalent to nearly 70 billion VND). Dong), the Ministry of Science and Technology supported nearly 9 billion, counterpaet funding of nearly VND 70 billion.
After many years of construction, at the end of 2019, the project was completed with items such as: Pump As Turbine system with 2 pump groups, total capacity of 19 liters/s. Can pump 1,800m3 of water/day, serving about 10,000 people; pressure pipe capable of withstanding water pressure, equivalent to 800m high water column, with a length of about 2.5km; The total pressure of the steel pipe is nearly 2.4 km, pumping water to the reservoir in Ma Ú village, Thai Phin Tung commune with a difference of 540m above the water pumping system. The project has been successfully tested and operated with a capacity of 1,600m3/day and night, ensuring sufficient water supply for the entire present and future Dong Van town.
According to Mr. Ho Tien Chung, Head of Department of Tectonics and Geomorphology (Institute of Geosciences and Mineral Resources), the project has 2 phases being implemented, including: phase 1 focuses on research and pumping water, phase 2 is water treatment, supply clean water for the locality. With a pumping capacity of 1,500 m3/day, enough to provide water for 2,000 households corresponding to 10,000 people living in Dong Van town and surrounding areas of Dong Van district, Ha Giang province.
* Towards replication of Pump As Turbine works
During the last drought season, the water has returned to Dong Van town thanks to the Pump As Turbine. Many people who used to have no water now have piped water to their households for use.
According to a report of the Center for Clean Water and Environmental Sanitation of Dong Van District, the project has been operated and the district has installed dozens of water meters for people living in areas higher than before.
Mr. Ho Tien Chung said that due to the new work, the Institute of Geosciences and Mineral Resources will continue with the German partner to monitor and check for errors from which to find out the causes and remedies.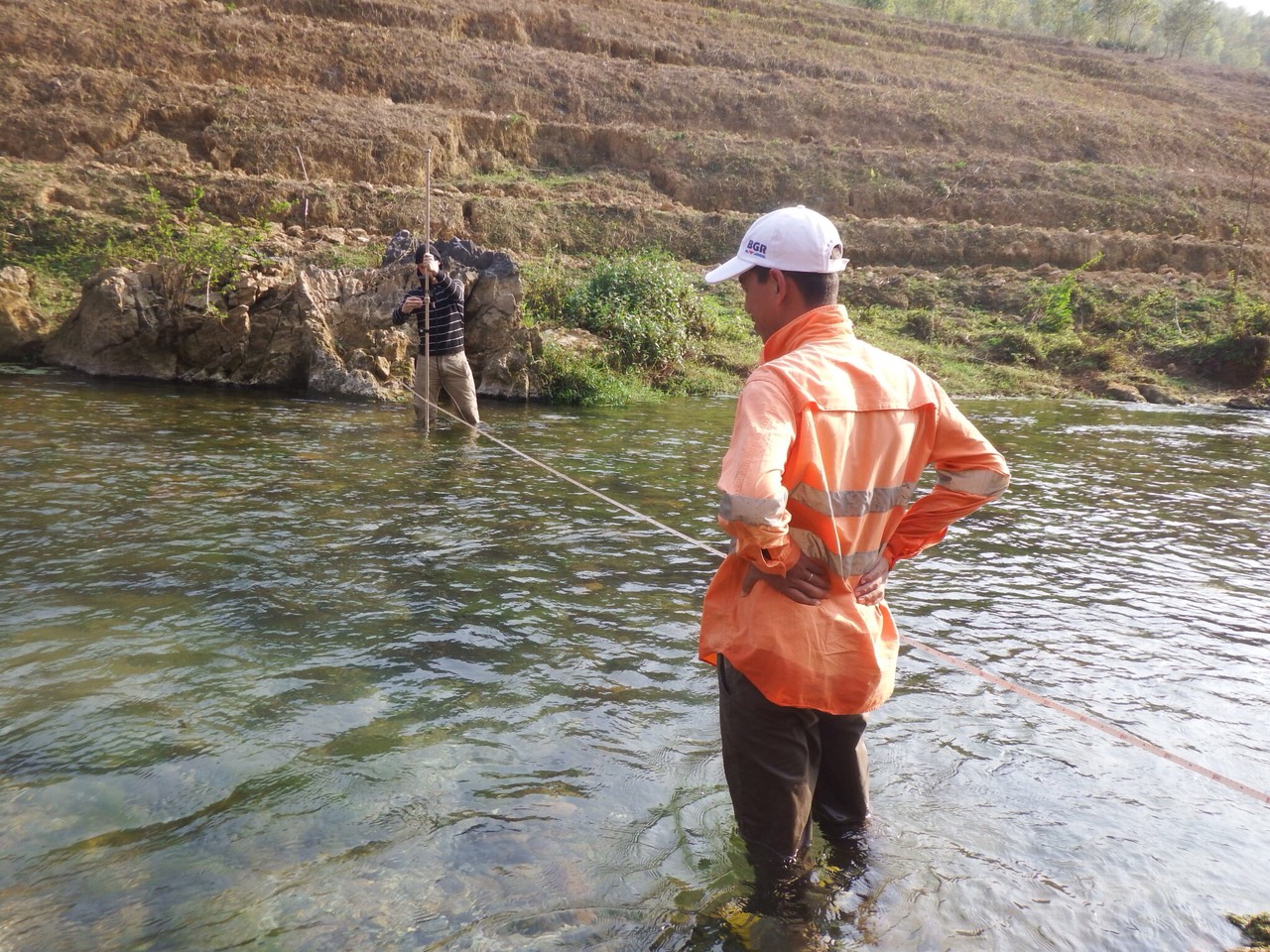 Mr. Ho Tien Chung (right) and a member of KaWaTech project survey and measure water flow at a flow in Na Luong, Yen Minh, Ha Giang
In order for the project to be operated for a long time after the handover, the Institute of Geosciences and Mineral Resources has proposed to Ha Giang Province and the beneficiary to sign a maintenance contract with KSB Vietnam pump company every 6 month.
Referring to the project's replication problem, Mr. Ho Tien Chung added that, after successfully pumping water to Dong Van town, Ha Giang People's Committee proposed replicating the model to Meo Vac. The Institute of Geosciences and Mineral Resources had a meeting with the delegation of the Federal Ministry of Research and Education of the Federal Republic of Germany (BMBF), which has pledged to send pre-feasibility study consultants in Meo Vac district.
In addition, the Ministry of Natural Resources and Environment has assigned the Institute of Geosciences and Mineral Resources to look for areas that can replicate the KaWaTech project model for Meo Vac district (Ha Giang) and Ha Quang district (Cao Bang).